♥ HIGH-QUALITY SEVEN WOODEN CHAKRAS SET
This wooden mandala art is a unique idea to decorate the living rooms, bedrooms, homes, and offices. You can also offer his set as a gift to lovers and friends at special events. We used plywood to make these arts durable, long-lasting, and reusable. All seven pieces of Mandala art are crafted by hand and painted with spray.

Plus, Mandala helps boost the immune system, reduce stress and pain, lower blood pressure, promote sleep, and ease depression. These symbols are used for meditation, prayer, and healing, and art therapy for both adults and children.


☛ Product Name: Bohemian Wall Décor
☛ Product Type: Handmade
☛ Product Material: Plywood and Spray Paint
☛ Set Included: 7 Chakra Mandala Arts
☛ Each Piece Thickness: 24 mm
☛ Diameters: 20 x 20 cm
☛ Cleanable and Reusable: Yes
☛ Mandala Style: Natural Wood and Painted Wood
☛ Spiritual Wall Art: Yes
☛ Ready to Ship: Yes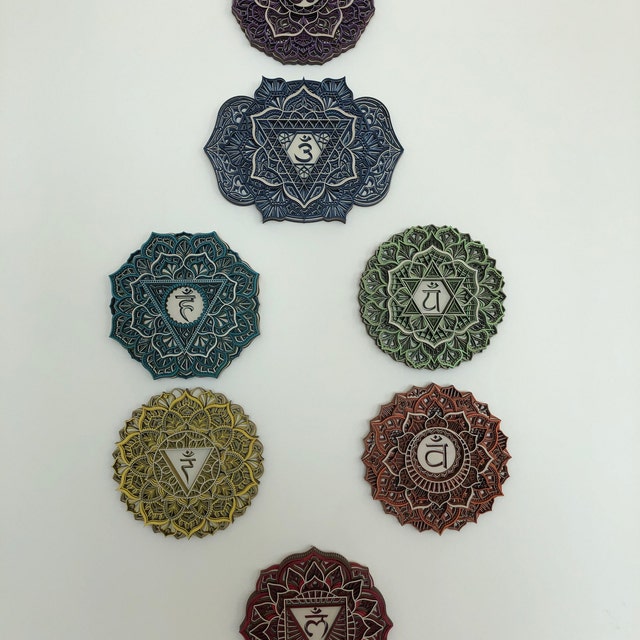 ♥ GIFT
These handmade Mandala arts can be used to offer as a gift to lovers, friends, and dear ones at special events like birthday parties, wedding ceremonies, engagement celebrations, Christmas, and other special days.

♥ WHY CHOOSE US
We provide the best customer support services. Moreover, we deliver the wall art in safe packaging to avoid any damages in shipping processes. You can order it confidently.

Note - there is a hook on the other side for wall hanging.